Господство права как универсальная ценность и многообразие конституционной идентичности
Игорь Александрович Кравец

Новосибирский национальный исследовательский государственный университет, Российская Федерация, 630090, Новосибирск, ул. Пирогова, 1

https://orcid.org/0000-0001-5291-7177
Аннотация
В статье рассматриваются научные подходы к пониманию конституционной идентичности как современного правового феномена, соотношение идентичности и конституционного права и конституционализма. Разграничиваются понятия «идентичность конституции» и «конституционная идентичность». Анализируются конституционные модели человеческого достоинства как элементы конституционной идентичности, которые демонстрируют многообразие подходов к конституционному регулированию и к конституционной политике в области прав человека. Раскрывается господство права как универсальная ценность, конституционный и правовой концепт. Излагаются происхождение доктрины «господство права», теоретические основы и исторические корни доктрины, соотношение конституционализма и господства права в современной юриспруденции. Освещаются внутригосударственный и международный аспекты доктрины «господство права», ее влияние на формы и практику современного конституционализма и конституционную идентичность. Намечаются основные перспективы конституционализации элементов господства права и конституционной идентичности в контексте формирования конституционализма человеческого достоинства, выявляются взаимосвязь и взаимозависимость господства права и конституционной идентичности, с одной стороны, человеческого достоинства и господства права — с другой, а также факторы влияния на господство права, конституционную идентичность и конституционное правосудие. Выясняется, в какой степени господство права может выступать универсальной ценностью в практике конституционного правосудия. Анализируются онтологические и эпистемологические элементы когнитивного конституционализма и господства права. В качестве выводов обсуждается проблема множественности форм и субъектов конституционной идентичности. Идентичность, как и господство права, не может быть выстроена только в категориях исключительности в связи с тем, что и общие, и специфические черты формируются в пространстве диалога права, истории, культуры.
Ключевые слова:
господство права, универсальная ценность, матрица ценностей, цели и принципы, когнитивный конституционализм, конституционная идентичность, идентичность конституции, конституционное правосудие, конституционная коммуникация, правовая коммуникация
Скачивания
Данные скачивания пока недоступны.
Литература
Vitruk, Nikolai V. 2016. Faithfulness to the Constitution. 2nd ed. Moscow, RGUP Publ. (In Russian)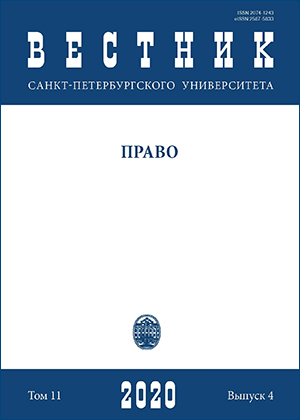 Как цитировать
Кравец, И. А. (2021). Господство права как универсальная ценность и многообразие конституционной идентичности. Вестник Санкт-Петербургского университета. Право, 11(4), 813-851. https://doi.org/10.21638/spbu14.2020.402
Раздел
Публичное и частное право: прикладные исследования
Статьи журнала «Вестник Санкт-Петербургского университета. Право» находятся в открытом доступе и распространяются в соответствии с условиями Лицензионного Договора с Санкт-Петербургским государственным университетом, который бесплатно предоставляет авторам неограниченное распространение и самостоятельное архивирование.