The Freedom of political speech in Perspective of Hate speech
Andrea Erdősová

Paneuropan University, Tomášikova 20, 821 02 Bratislava, Slovakia
Аннотация
What is actually a hate speech, where are the boundaries between freedom of speech and expression that meets the hate attributes? The expansion of social media strengthens the sphere of public communication and gives every individual connected to these media an opportunity to express their opinion. The article deals with two cases of the European Court of Human Rights in perspective of political speech and its limitation. In our contribution, we also deal with the ethics and presentation of political expression in the context of the political reality of the Slovak environment, which guides the real struggle of a modern type of democracy. Its consequence is the fact that the political arena creates opportunities for thoughts that are offensive, extremist, offend and encourage hatred and discrimination. The question arises as to how to prevent them effectively in mass media if the representatives of such opinions are elected by the citizens themselves in the free elections and they are thus given the mandate to disseminate opinions which may be in principle criminal or justifiable criminal offenses. It also presents a basic newest grant for a research project "Freedom of speech in the context of modern technologies". We have joined our experts among the three faculties — law, psychology, and mass media of the Paneuropean University, Slovakia, to investigate what kind of boundaries are set for the content, false information, hate speech, lies and fictions, which is an extraordinary challenge of our research nowadays.
Скачивания
Данные скачивания пока недоступны.
Литература
References
History.com Staff: First Amendment. Published in 2017. Accessed July 23, 2018. https://www.history.com/topics/first-amendment.
Marcelli, F. "Repression of Hate speech: Its Foundations in International and European law". Hate crime and Hate Speech in Europe: Comprehensive Analysis of International Law Principles, EU wide study and National Assessments. 18. Accessed June 25, 2018. https://ec.europa.eu/migrant-integration/librarydoc/hate-crime-and-hate-speech-in-europe-comprehensive-analysis-of-international-lawprinciples-eu-wide-study-and-national-assessments.
Voorhoof, D. 2009. "Politicus die haat zaait is strafbaar". Mediaforum 10: 372–377.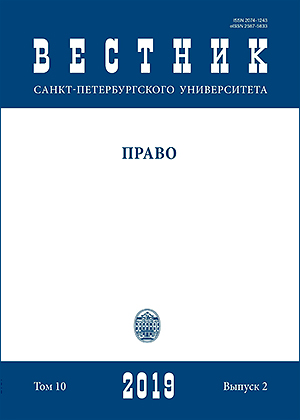 Как цитировать
Erdősová, A. (2019). The Freedom of political speech in Perspective of Hate speech. Вестник Санкт-Петербургского университета. Право, 10(2), 353-361. https://doi.org/10.21638/spbu14.2019.210
Статьи журнала «Вестник Санкт-Петербургского университета. Право» находятся в открытом доступе и распространяются в соответствии с условиями Лицензионного Договора с Санкт-Петербургским государственным университетом, который бесплатно предоставляет авторам неограниченное распространение и самостоятельное архивирование.